Knowing when to quit
All summer, I've trained for an olympic triathlon. Then August hit and with work, moves (my training partner bought a house) and summer fun, training fell by the way-side. After much discussion with my training partner, we have come to the conclusion that our training for the Olympic Triathlon has not prepared us to do the actual tri. So we made the hard but wise decision to not compete in this year's event. There is always next year!
We did however agree to train and do the Seattle Half Marathon which is the Sunday after Thanksgiving. We've laid out our schedule and have begun running this week.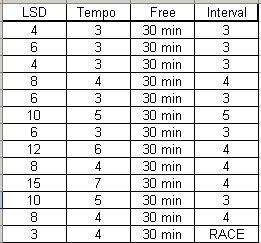 So far I am planning of running on Monday, Tuesday, Thursday and Saturday. I have Spanish Class on Monday so I may need to run in the morning. Saturday would be long run day, Tuesday and Thursday Tempo and Interval.
Legend to Schedule:
Tempo is running at a steady pace for the alloted time/mileage. You
would keep your heart rate at about 70-75%
Interval is running for 5 minutes and walking for 1 minute with a push. You run HARD for that 5 minutes and then you walk slower for that 1 minute. Gets your heart trained!
LSD = Long Slow Run at about 60% of our max heart rate.
Free Run = Running for 30 minutes anyway you like it.